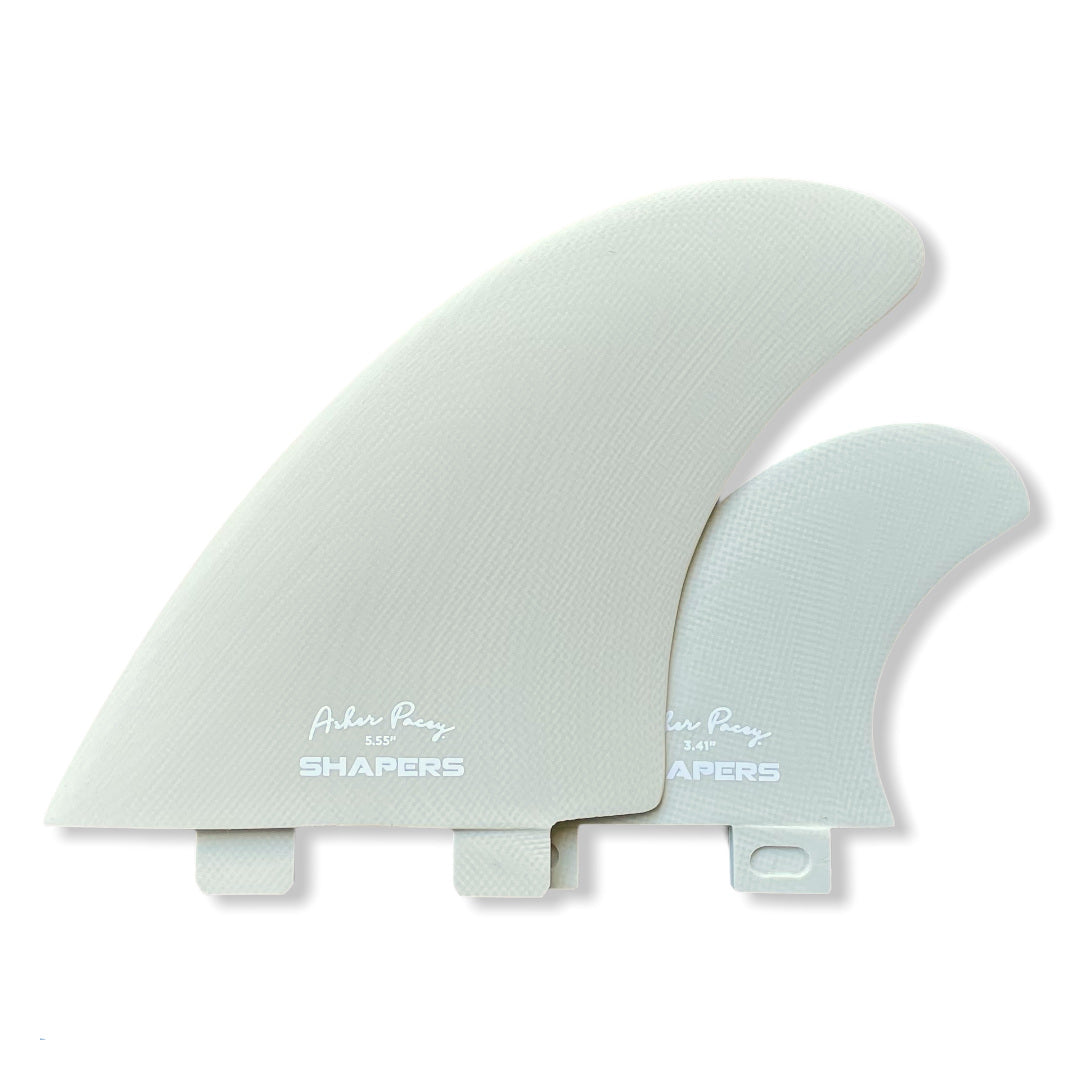 Shapers Fins - AP 5.5" Retro Keels (FCS 1) - Cool Grey
Shapers Fins - AP 5.5" Retro Keels + Trailer (FCS 1) Asher Pacey - Cool Grey

*includes FCS infill kit for FCS2 plugs (if needed)
The Asher Pacey Retro Keel is inspired by Asher Pacey's stylish and progressive Twin Fin surfing. The Asher Pacey Retro Keel redefines the traditional approach to flat and lateral twin fin surfing, bridging the gap between Twin Fins and Thrusters. The AP Twin Fins are designed to provide maximum drive, speed and hold through turns whilst maintaining a lively, free flowing ride that is iconic to twin fin surfing.
The Asher Pacey Retro Keel is a refined keel with a scaled back rake that is designed for high performance surfing. The solid fibreglass construction offers great stability and control during high speed manoeuvres all the while maintaining that classic down the line retro keel feeling.
Material: Fibreglass
3 Fins included (2x Twins + 1 Trailer)
2 Twin Fins:
Base:  4.13" (105mm)
Trailer Fin(Optional):
Base:  3.34" (85mm)
How much will shipping cost?
Australia Postage
Wetfins offers free shipping on all Australian orders.

Worldwide Shipping
Wetfins offers Worldwide Shipping calculated at checkout. Orders will be shipped with Australia Post. 
*Please see import duties disclaimer below.
Where is my order shipped from?
All orders are shipped from Port Macquarie NSW, Australia via Australia Post.