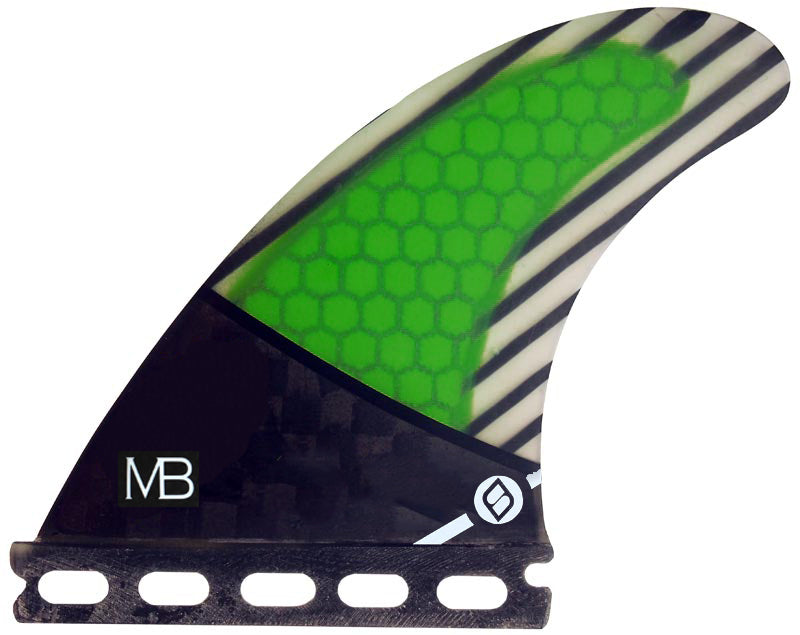 Shapers Fins - MB1 Matt Banting (Future) - Hybrid - Medium
Shapers Fins - MB1 Matt Banting (Futures) - Hybrid Series - Medium
The Hybrid version of the MB01 looks the goods whilse ticking all the boxes required for high performance surfing. The solid carbon base provides hold and drive whilst the carbon stripes provides extra projection and release.  A technical and ultra-light fin construction that benefits from a progressive flex pattern and kinetic energy.  
The MB01 is Matt Banting's signature fin model, purpose built to enhance Matt's fast and critical approach to surfing, from busting airs to open face carves. The MB1 has an upright template which gives additional pivot for tight pocket surfing and quick transition between turns. A great option for delivering speed in sluggish conditions and allowing fin release for new school airs.
Thruster Set - 3 Fins
Size: Medium 55-75kgs
Depth:  4.5" (114mm)
Base:  4.25" (108mm)
Foil:  Flat Foil(Side Fins)  50/50(Rear Fin)
Also available in Carbon Stealth for those who like a slightly stiffer fin.
How much will shipping cost?
Australia Postage
Wetfins offers free shipping on all Australian orders.

Worldwide Shipping
Wetfins offers Worldwide Shipping calculated at checkout. Orders will be shipped with Australia Post. 
*Please see import duties disclaimer below.
Where is my order shipped from?
All orders are shipped from Port Macquarie NSW, Australia via Australia Post.