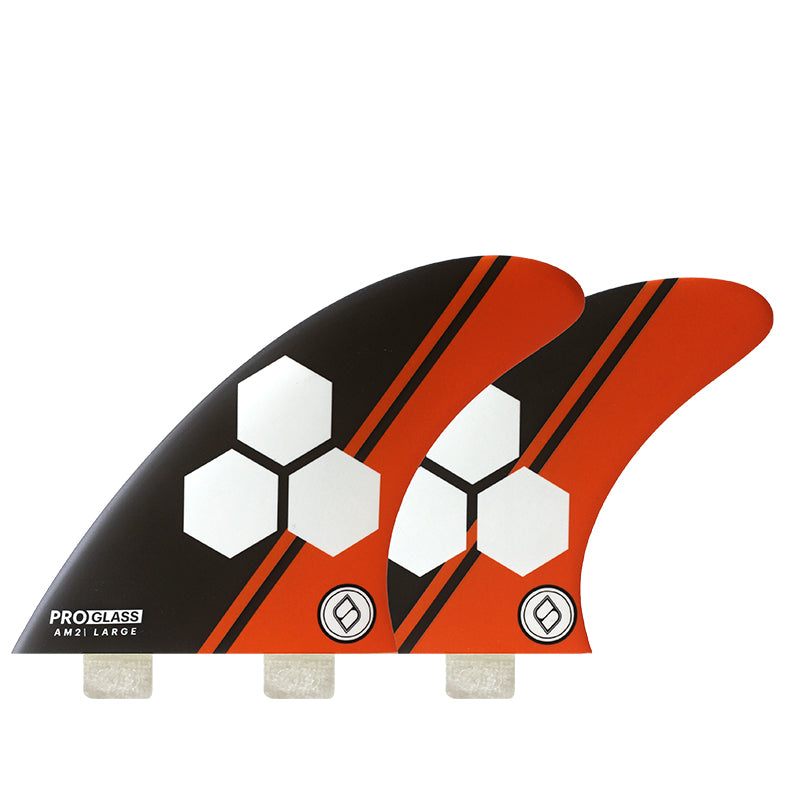 Shapers Fins - AM2 Pro Glass (FCS 1) - Orange - Large
Shapers Fins - AM2 Pro Glass (FCS) - Orange - Large
The AM2 is a collaboration between world renowned Surfboard Shaper Al Merrick (Channel Island surfboards) and the specialist fin company, Shapers Fins. The AM02 is designed for fast, high performance surfing through a unique blend of speed, drive and release. The raked template and wide fin base effectively delivers drive and control, whilst the fins refined tip and smaller centre fin reduce drag and allow for quick fin release when desired. The AM02 is ideal for medium to large surfers between 75-95kgs.
Material: Solid Fibreglass
SIZE: Large 
Weight Range - 85kg-100kgs
Front Fins:
Depth:  4.73"  (120mm)

Base:   4.64"  (118mm)

Sweep: 36.3 Degrees

Foil: Flat
Centre Fin:
Depth: 4.49"  (114mm)

Base:  4.52"  (115mm)

Sweep: 38.6 Degrees

Foil: 50/50
How much will shipping cost?
Australia Postage
Wetfins offers free shipping on all Australian orders.

Worldwide Shipping
Wetfins offers Worldwide Shipping calculated at checkout. Orders will be shipped with Australia Post. 
*Please see import duties disclaimer below.
Where is my order shipped from?
All orders are shipped from Port Macquarie NSW, Australia via Australia Post.