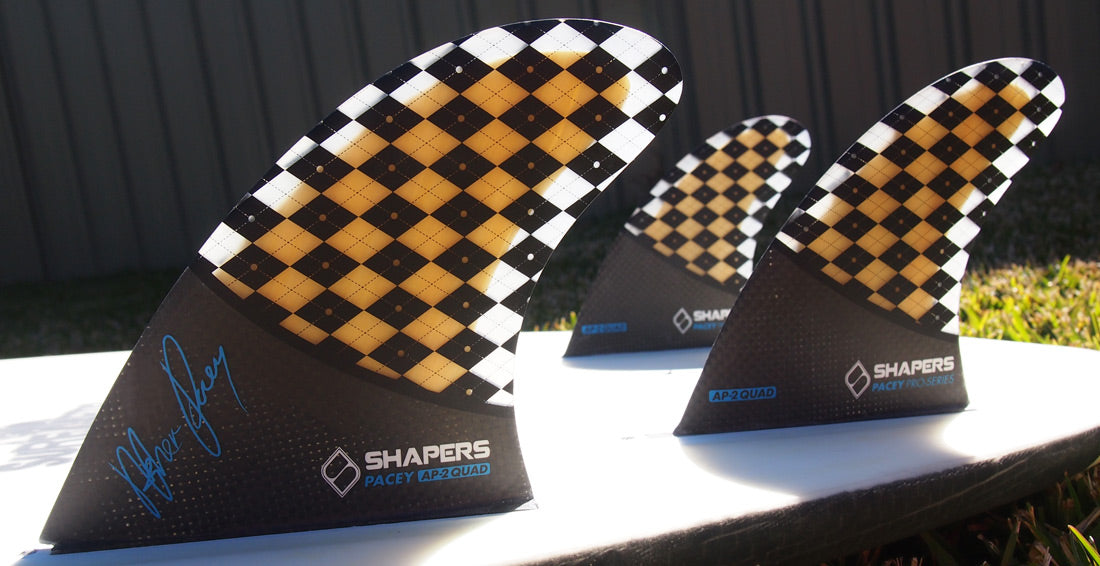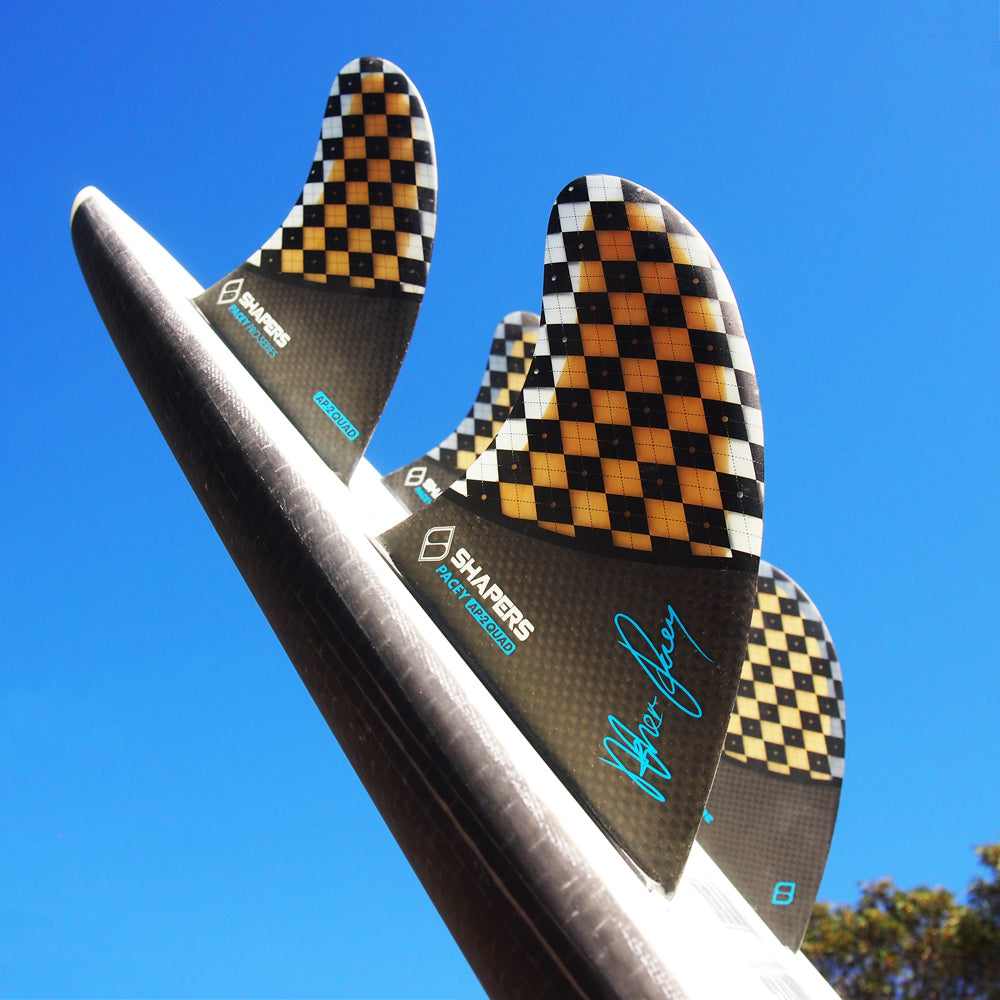 Shapers Fins - AP2 Quad (Future) - Asher Pacey - Medium-Large
Shapers Fins - AP2 Quad (Futures) - Asher Pacey - Medium-Large (Bamboo Inlay)
The AP02 is Asher Pacey's Signature Model. The AP02 is a Medium-Large template which is designed for Medium to larger surfers. The template is design with a rake ratio that allows the AP Series to surf from tight pocket surfing to open face carving. The AP Series uses Shapers Carbon Flare Technology that creates a stiff base and allow the fin to flex in a way that releases energy between transitions that provides maximum acceleration and drive. A great choice for most surfers, boards and conditions in the Medium to Large fin range. Also available in Small-Medium.
Material: Carbon Base with Hex Core/Glass w/Bamboo Inlay
Dimensions:
Size: Medium-Large 70kg-85kgs
Front Fins:
Base:     4.61"  (117mm)
Depth:    4.57"  (116mm)
Sweep:   33 Degrees
Foil:  Flat
Rear Fins:
Base:     4.04" (102mm)
Depth:    3.97" (100mm)
Sweep:   33 Degrees
Foil:  80/20
Product Reviews
all round quad fins 

Posted by Ian Bush on 17th Jan 2013

Have tried these fins in 2 boards. A 5'10'' Rusty Dwart and A 5'8" custom board similiar to a Firewire Baked Potato. Surf was 2-3ft one day and 3-4ft next day. The fins had great hold and drive and are versitile whether you want a tight arc or long drawn out turn. The finish is about the best of any fins I have purchased and sit flush with no gaps or hum while surfing. Highly recommend to a fish or wide tailed board.

---

Great fins!!!! 

Posted by NY on 21st Dec 2012

I live in NY so we get mostly small surf (especially this time of the year). I received these fins and had the chance to try them in my 5'6 Sweet Potato. Waves were very small and clean.
Fins felt really smooth transitioning rail to rail and had great drive. Again waves were very small but first impressions, these fins worked better than any set in this particular board. Made turns much easier than the larger fin set I had on the board originally, yet had just as much drive
The fins have zero gaps between fin and bottom of board and are finished beautifully. Very impressed.
The customer service from Wetfins was top notch. Josh followed up on my order making sure I got them. Highly recommended fins and website. Thanks!!!
How much will shipping cost?
Australia Postage
Wetfins offers free shipping on all Australian orders.

Worldwide Shipping
Wetfins offers Worldwide Shipping calculated at checkout. Orders will be shipped with Australia Post. 
*Please see import duties disclaimer below.
Where is my order shipped from?
All orders are shipped from Port Macquarie NSW, Australia via Australia Post.