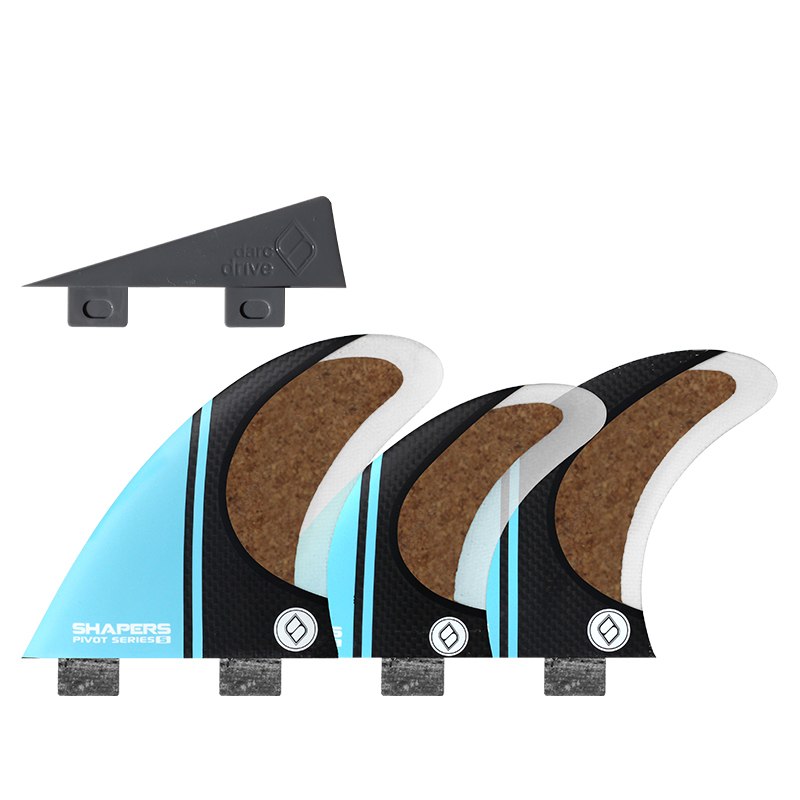 Shapers Fins - Pivot Tri-Quad-6 Fin (FCS) - Small - Blue
Shapers Fins - Stealth Pivot Tri-Quad-6 Fin (FCS) - Small - Blue

The PIVOT Series is designed with an upright template which gives additional pivot for tight pocket surfing and quick transition between turns. A great option for delivering speed in sluggish conditions and allowing fin release for new school airs The upright side fins allow for quick and pivotal turns whilst the smaller centre fin reduces drag and allows for release. A popular template for high performance pocket surfing, allowing you to get into and out of tight turns super fast. 
Dimensions:
Size: Small 45-60kgs
Front Sides:
Base:  4.33" (110mm)
Depth:  4.44" (113mm)
Foil: Inner Foil
Sweep:  32 degrees
Centre Fin:
Base:  4.33" (110mm)
Depth:  4.37" (111mm)
Foil: 50/50
Sweep:  33 degrees
Quad Rears:
Base:  3.77" (96mm)
Depth:  3.93" (100mm)
Foil: 80/20
Sweep:  29 degrees
STEALTH SERIES: Engineered with carbon fibre through the leading edge whilst keeping the fin tip free to flex (load up). respond, and whipping out of turns. A rotational flex pattern that feels very lively and progressive, helping to generate speed! A popular construction that responds to the way they are surfed.
How much will shipping cost?
Australia Postage
Wetfins offers free shipping on all Australian orders.

Worldwide Shipping
Wetfins offers Worldwide Shipping calculated at checkout. Orders will be shipped with Australia Post. 
*Please see import duties disclaimer below.
Where is my order shipped from?
All orders are shipped from Port Macquarie NSW, Australia via Australia Post.