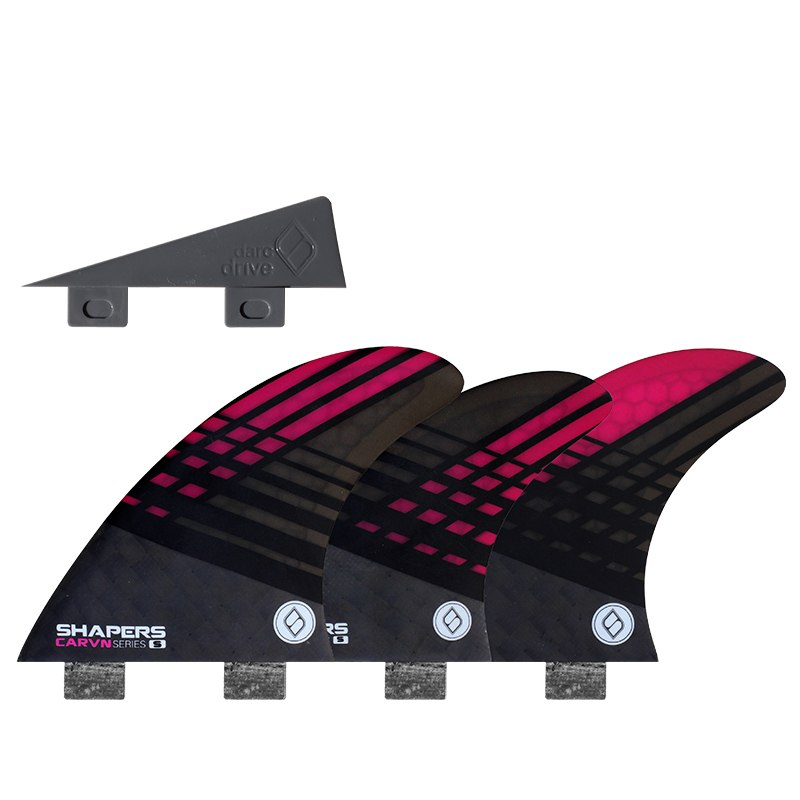 Shapers Fins - CARVN Tri-Quad-6 Fin (FCS) - Pink - Small
Shapers Fins - CARVN Tri-Quad-6 Fin (FCS) - Pink - Small

The Carv'n features greater rake through the fins outline, purpose built for power carves and sweeping arc's. Ideal for point breaks and open face surfing where speed and flow are desirable. The Carv'n fins have a wide base for a solid feel off the bottom turn, giving drive and control, whilst the fins tips are refined to provide speed and release off the top. The Carv'n fin templates are very popular with our professional surf team who demand drive and hold through sweeping turns, however need release for radical manoeuvres through and above the lip. The Carvn designs are also a good option in challenging waves, with the fins rake providing greater stability down the line and hold through full rail wraps.
The CARVN Five Fin Set can be ridden as A thruster or a Quad. 
Includes: 6 Fins (5 fin set + 1 Darc Drive)
Dimensions:
Size: Medium 45-60kgs (100-130lbs)
Front Side Fins:
Base:  4.37" (111mm)
Depth:  4.33" (110mm)
Foil: Flat
Sweep:  33 degrees
Centre Thruster Fin:
Base:  4.37" (111mm)
Depth:  4.33" (110mm)
Foil: 50/50
Sweep:  33 degrees
Quad Rears:
Base:  3.77" (96mm)
Depth:  3.93" (100mm)
Foil: 80/20
Sweep:  29 degrees
The CARVN Fibreglass Fin Set is part of the Hybrid Series. The Carbon Hybrid Series utilises the benefits of a stiff carbon base and strategically angled carbon strips throughout the top half of the fin. This design creates a unique tension flex that releases energy out of turns, loading and then springing back into its true form with speed, power and commitment. The Carbon Hybrid Series offers more drive and hold then our other constructions, very popular with Shapers elite surf team for delivering fast, powerful and responsive surfing..
How much will shipping cost?
Australia Postage
Wetfins offers free shipping on all Australian orders.

Worldwide Shipping
Wetfins offers Worldwide Shipping calculated at checkout. Orders will be shipped with Australia Post. 
*Please see import duties disclaimer below.
Where is my order shipped from?
All orders are shipped from Port Macquarie NSW, Australia via Australia Post.