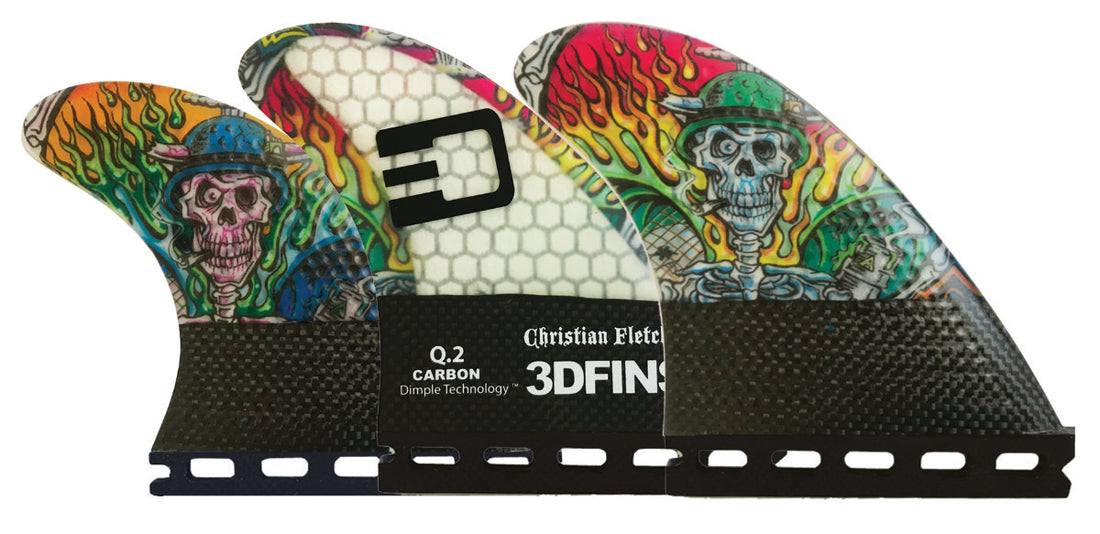 3DFins - Christian Fletcher Tri-Quad-5 Fin (Future) - Medium
3DFins - Christian Fletcher Tri-Quad-5 Fin (Future) - Medium

Christian Fletcher Carbon base Signature 5 FINS (Thruster or Quad)
Christian Fletcher is one of the most innovative Surfers ever, the God father of Aerial Surfing with Air Style and precision still to this day hasn't been matched. Christian noticed the performance attributes the Dimples create allowing his explosive speed and innovative ideas to flourish. The Front fins have a upright template allowing for sharp direction changes with the rear fins complementing the front with a more relaxed rake.The Carbon base combined with the Dimples make these Quads unbelievably fast and responsive.The Carbon base adds strength and stiffness to lower end of the fins while allowing the upper 3rd of the fin to flex. This is high performance flex pattern that anyone can get the benefits from.
Dimples eliminate wake tracking sometimes associated with Quads. Christian Fletchers unmistakable graphics with 3DFINS unique embedded graphic process takes Fin Art to the next level.
Carbon Fiber base/Fibreglass/Hexcore Construction
Front Side fins:
Height: 4.56"(116.00mm)
Base: 4.37" (110.23mm)
Rake: 32 degrees
Rear Side fins: 
Height: 4.42" (112.27mm)
Base: 4.29"(108.97mm)
Rake: 32.4 degrees
Center Fin:
Height: 4.55"(116.00mm)
Base: 4.34" (110.23mm)
Rake: 32 degrees
How much will shipping cost?
Australia Postage
Wetfins offers free shipping on all Australian orders.

Worldwide Shipping
Wetfins offers Worldwide Shipping calculated at checkout. Orders will be shipped with Australia Post. 
*Please see import duties disclaimer below.
Where is my order shipped from?
All orders are shipped from Port Macquarie NSW, Australia via Australia Post.